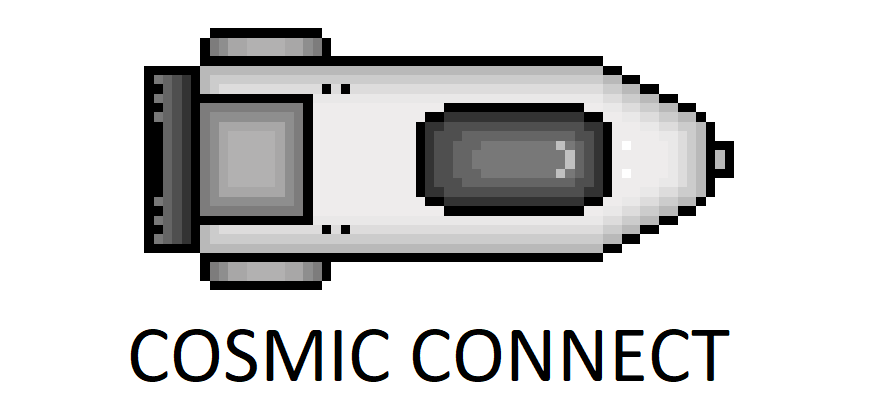 Cosmic Connect
A downloadable game for Windows
You are a defender of the galaxy in your new ship. Pass through warp gates to connect new parts to your ship! They increase your speed, health, and firepower! CAN YOU DEFEAT THE BOSS?

Made for Extra Credits Game Jam #4! Theme = CONNECT
Due to life/work I only had two days to work on it.

Made in Unity 2D. All sprites made in PS CC after announcement of the theme.
Modified scripts from my previous game jam submission, and created new.
Controls: WASD movement, left/right mouse hold shoots TWO lasers. (One aims at mouse target, and one shoots straight.)

Music/SFX: Original and made in sfxr.
Font: Press-Start-2p by codeman38
Updated 1.1: Enhanced the backgrounds, added an additional enemy(fly and shoots straight), allowed screen sized adjustment :) and testing unity trails system.
Download
Click download now to get access to the following files:
Cosmic Connect Update Build.zip
38 MB
Comments
Log in with itch.io to leave a comment.
Can you please make the game window resizable? I would like to play this game :+1:
Hello! I think you can now pick screen resolutions! Please check out my new game 'Heatwavy' too :)
I like the game, I love the art style and the sound is excelent, but maybe it's way too easy, probably adding more enemies on screen and giving theme infinity range in their shoots or nerfing the players range it would feel more balanced. But great job, it's a polished game and makins is really satisfactory :)
Thank you! I plan to update it with more levels and enemies and 1 more boss hopefully :)